On a country property in Harvey surrounded by tall Marri trees, Lara Rognetta spent dry, hot summers beside her Grandfather tinkering with old cars and assisting with odd jobs around the house.
A third-generation resident born at Harvey Hospital, Lara grew up in a tight-knit community: when she travelled into town, there was always a familiar face. Chances were it was someone who knew her Grandfather, a mechanical fitter at South32, from work.
In high school, Lara participated in South32's Female Work Inspiration Program, which spotlighted prominent women and future work opportunities at the company. As part of the program, she toured the Worsley Refinery - the same site her grandfather travelled to daily with a smile on his face for over 26 years. Lara always knew she enjoyed hands-on work, but this program solidified her interest in considering a trade as a serious career path.

Lara took the leap when she finished school and followed in her father and grandfather's footsteps to learn a trade. She chose to pursue a career in mechanical fitting.
Having previously working with an all-female team at the local supermarket, Lara wasn't entirely sure what awaited her in a typically male-dominated field. But from her experience in high school with South32, she knew the company was one committed to its people - and to nurturing and propelling women's careers. With that in mind, and with unwavering support from her Mum, Dad and Grandfather, Lara enrolled as an apprentice fitter.
From her first day, Lara was welcomed warmly as part of the South32 team . She soon realised her gender - and her apprentice status - had no bearing on how she would be treated.
"In my time here, I've always been encouraged to do exactly the same things the men do. I don't want anything less to be expected of me just because I am a female," said Lara.
Lara has grown under the guidance of female apprentice masters and other internal supports at South32, including women's networking and mentoring opportunities.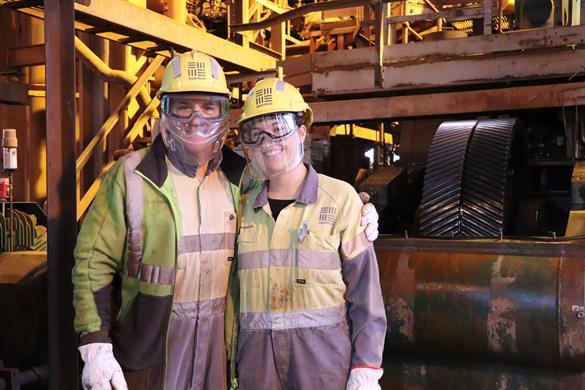 Pictured above: Lara Rognetta with Grandfather Sam Rognetta
Two years on, Lara is proud to be living and working in the community she has always called home - and for a company that values it as much as she does. When she's not at the Refinery, you can find Lara playing social netball with friends. Weekends are spent on her boyfriend's farm, riding horses and tending to farmwork.
Lara has seen firsthand how South32 prioritises its people, community and environment.
"It's important to care about the world we are handing over to future generations," she said. "If we didn't care about the environment, there would be no world to hand over. It's personally important for me to work for a company with these values."