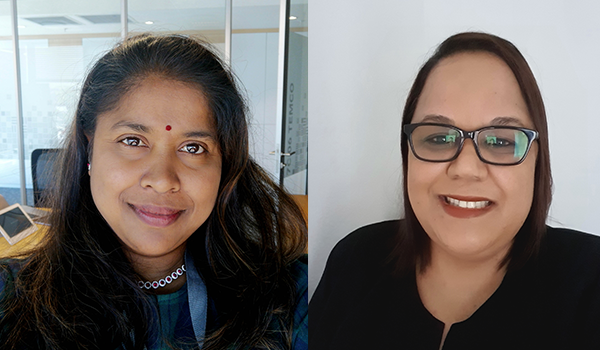 17 DECEMBER 2020
South32's Gaynor and Yogen named COVID-19 Heroes in South Africa
South32's Gaynor Kast and Yogen Chetty have been named in the top ten 'COVID-19 Women in Mining Heroes' by The Minerals Council South Africa Women in Mining Leadership Forum.
The list recognises women in the South African mining industry who have gone above and beyond during the pandemic.
Gaynor, Communications Specialist at Hillside Aluminium, and Yogen, Health Safety and Environment Operations Manager, were chosen from 77 women nominated by their colleagues for their hard work in responding to the challenges presented by the pandemic.
Gaynor has been central to communicating COVID-19 controls at Hillside and its local community. She arranged and delivered facemasks, hygiene items, maternity packs and food parcels. She also worked with a local newspaper to create learning supplements and activity packs for children being home schooled during the lockdown.
Gaynor said she was humbled by the recognition: "This award is not mine alone – I share it with the Hillside team, who pulled together when it mattered most. For Hillside, it was a privilege to be able to reach out and offer support to those in need."
Yogen has played a pivotal role in the development of South32's COVID-19 response plans in Southern Africa, leading a team of frontline workers to ensure all were aligned and following best practice.
Yogen helped implement new health and safety policies, protocols and procedures across our operations. She also worked to quickly set up quarantine and medical wards, and to implement mobile applications for pre-screening and track and trace purposes.
Yogen said: "It is imperative we all work together and collaborate so, together, we help stop the spread of COVID-19. There were many days where I felt like I could not keep up with the fast pace at which the world around us was changing, but I kept focused and pushed forward."
Thank you, Gaynor, Yogen and all other COVID-19 heroes around the world for your selfless efforts in helping keep us safe and well.
Yogen Chetty (left) and Gaynor Kast (right)