14 MARCH 2018
Indigenous Work Experience Program providing opportunities.
Ezhekial Metcalfe, a graduate of the first Indigenous Work Experience Program at our Cannington operation, has now joined the team as a full-time Process Plant Operator.
Launched in 2017 through a partnership with Indigenous-owned company, Western Labour Hire, the program provides local Indigenous people with an opportunity to gain 12 months of paid employment, industry training and valuable on-the-job work experience at our Cannington mine.
Ezhekial said he applied for the position because he knew it could be difficult to find work in the industry with little or no experience.
"The program was also offering paid employment for 12 months and I really did see it as an opportunity of a lifetime," Ezhekial said.
"During the past 12 months, I've worked at Cannington's process plant with really good people who have showed me the ropes and supported me while I learn."
Through our sponsorship, Ezhekial has also qualified for his Elevated Work Platform and Overhead Gantry Crane tickets. In the future he hopes to combine work with part-time university study to explore the many career opportunities in the mining industry.
Cannington Vice President Operations, Rob Jackson, said Ezhekial was as a great ambassador for the Indigenous Work Experience program.
"Supporting the local community through employment opportunities is important to us," Rob said.
"With this program, we want to give young Indigenous people an entry level experience that could launch a future career in mining, while still being able to remain close to home and family."
Applications for the second round of the Indigenous Work Experience Program close at 4:00pm on Friday 23 March 2018. Applications can be submitted via the Western Labour Hire website.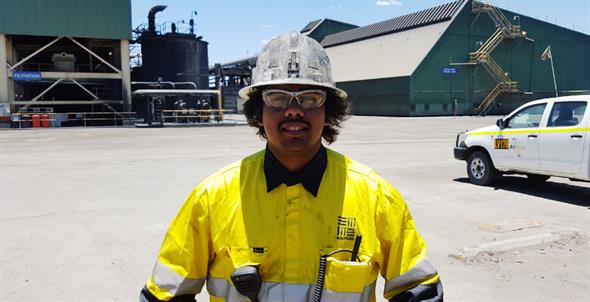 Ezhekial Metcalfe