05 SEPTEMBER 2018
We're supporting local farmers.
With severe drought conditions affecting the Wollondilly area, our Illawarra Metallurgical Coal operation has made a $20,000 donation to help local farmers.
Established by the Lion's Club of Tahmoor, The Dilly Drought Drive was set up to help provide farmers in the Wollondilly Shire with hay, water and orchard supplies.
Our donation has the potential to provide 160 loads of water to 23 farmers over six weeks.
Jason Economidis, our Illawarra Metallurgical Coal Vice President Operations, said it was important to support local communities.
He said: "We have been operating in the Wollondilly region for over 50 years and our thoughts go out to those who are impacted by the drought.
"We are proud to support our neighbours at a time when help is needed most and we genuinely want to create better futures for our communities."
"We're also encouraging our employees to donate through our Matched Giving Program, with every dollar they donate matched by South32."
Sharon Bishop from the Lion's Club welcomed the contribution, adding: "We are very appreciative of how the local community and businesses throughout the area have rallied together to support our farmers when they need it most."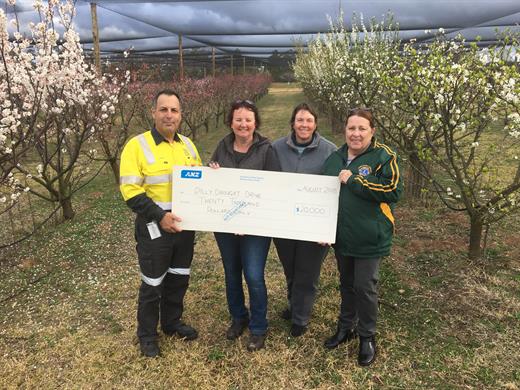 Jason Economidis, Vice President Operations, and Dilly Drought Drive coordinators.