10 JULY 2018
Appin Public School given funding to help students with digital literacy skills.
In today's fast-paced digital world it can often be difficult to stay ahead of the curve.

Following a period of rapid growth, Appin Public School found itself in a position where its technology resources were not meeting the demands of its students and teachers.
That was until our Illawarra Metallurgical Coal Community Partnerships Program stepped in and provided the school with almost $20,000 to establish a new, portable mobile computer lab which could be shared across the different classrooms to improve the children's digital literacy skills.

South32 Illawarra Metallurgical Coal Vice President Operations, Jason Economidis said that technology would help to advance the next generation's knowledge and ability.

"In today's online world, it has become so important for people to start developing their skills in digital technology from an early age," Jason said.

"We hope our support will equip students with the skills to excel in a digital world and set them up for successful careers in the 21st century."

Appin Public School Principal Vivian Harrison said the funding couldn't have come at a better time.

"Our school has grown rapidly over the past two years, and as a result our technology resources were not meeting the demands of our students and teachers," Vivian said.

"We are truly grateful for the funding from the Illawarra Coal Community Partnerships Program, which has allowed us to establish our mobile computer lab and in turn provide students with the opportunity to expand their skills in creativity, communication, critical thinking and collaboration."

The recent support we have provided also highlights our ongoing commitment to ensuring that we continue to help improve people's lives, now and for generations to come as well as our focus on utilising technology, innovation and improvement to raise performance.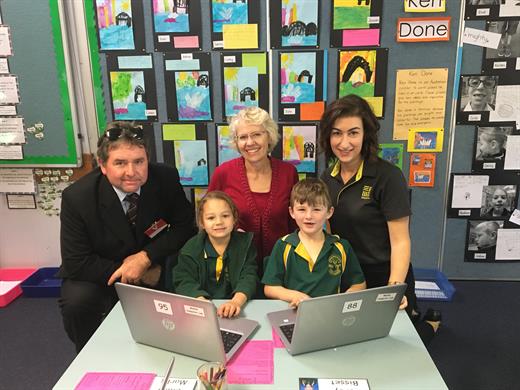 Students enjoy their new mobile computer lab