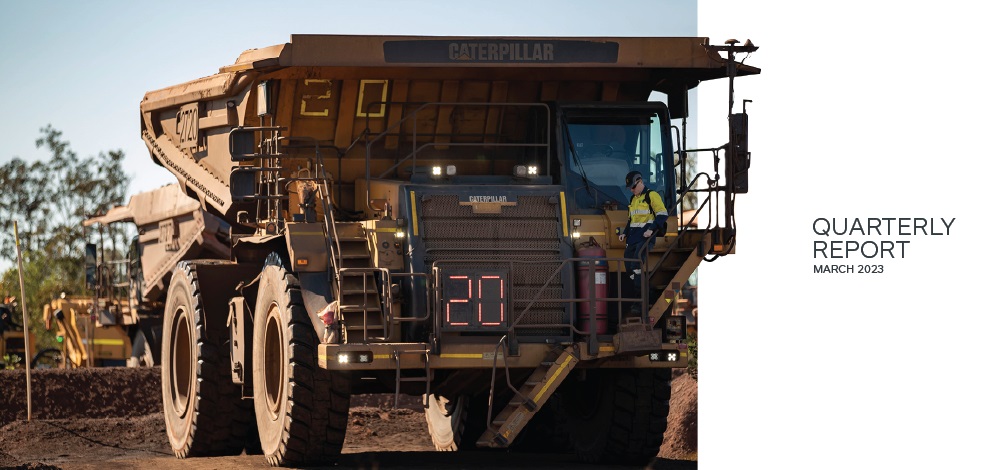 24 APRIL 2023
Today we released our March 2023 Quarterly Report, which saw Group copper equivalent production increase by seven percent year to date, as our recent investments delivered strong growth in copper and low-carbon aluminium.
Australia Manganese achieved record production and the Eastern Leases project has been approved, extending the life of the operation and unlocking significant value. South Africa Manganese increased production by five per cent and remains on-track to achieve guidance.
Brazil Alumina lifted production by six per cent year to date and Worsley Alumina completed planned calciner maintenance. Sierra Gorda delivered strong volume growth in copper and remains on-track to achieve FY23 production guidance.
Several operations faced challenging conditions during the quarter, with production guidance revised down as a result. At Mozal Aluminium, we reduced output as the team continued to work through their recovery plan following the devastating loss of two of our colleagues in November, with efforts hampered by severe flooding in the local area. We also temporarily suspended mining activity at Cannington during the quarter to enable the safe return to operations following heavy rainfall.
Cerro Matoso nickel production year to date was largely unchanged, despite lower quarterly volumes due to a temporary reduction in access to higher grade ore. FY23 production guidance is revised down by seven per cent.
Illawarra Metallurgical Coal's Appin mine encountered challenging strata conditions in the quarter, resulting in lower longwall productivity and a seven per cent reduction in FY23 production guidance.
We continue to reshape our portfolio towards commodities critical to a low-carbon future, progressing construction and development studies at Hermosa. The Taylor feasibility study remains on-track to support a planned final investment decision in mid-2023. We added the prospective Chita Valley copper project to our portfolio of greenfield options.
We returned US$31 million to shareholders via our on-market share buy-back in the quarter, with a further US$128 million still to be returned. We also paid a fully-franked interim dividend of US$223 million following the end of the period.
Operating unit cost and capital expenditure guidance has been held largely unchanged for FY23, and we remain well positioned to capitalise on improved market conditions, with higher production volumes expected to finish the 2023 financial year.