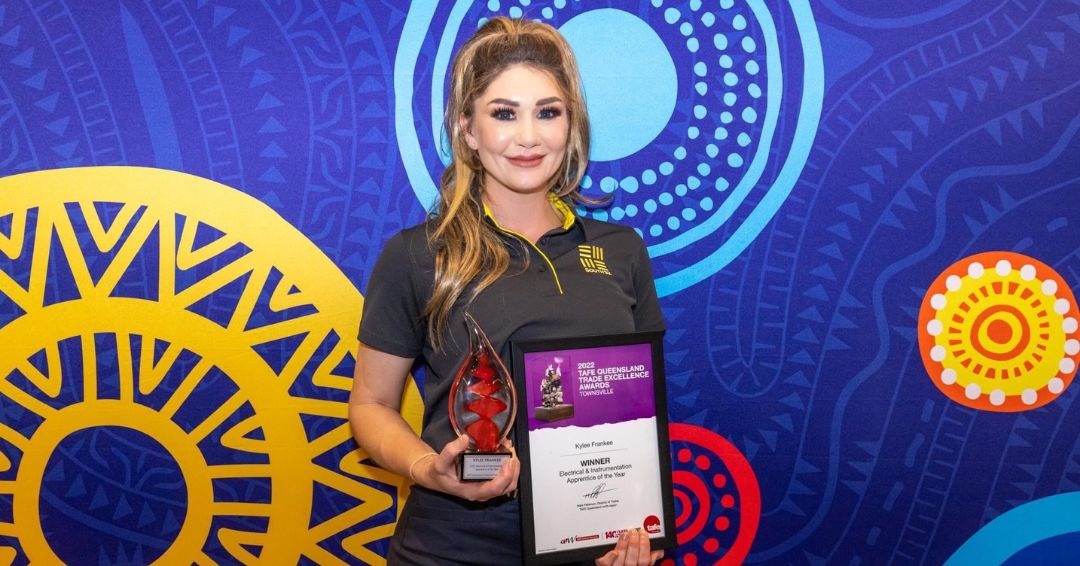 11 NOVEMBER 2022
Kylee Frankee named Electrical and Instrumentation Apprentice of the Year
Congratulations to Kylee Frankee, Apprentice Electrician and Instrument Technician at our Cannington operation, who was named Electrical and Instrumentation Apprentice of the Year at the recent 2022 Technical and Further Education Queensland Trade Excellence Awards.
Kylee was thrilled to accept the award that recognises her outstanding achievements during her apprenticeship. "I couldn't be happier to receive this award and I am thankful to my teachers and mentors who have supported me along the way," Kylee said.
Now in the fifth year of her apprenticeship program, Kylee has demonstrated a strong work ethic, determination to succeed and has made a valuable contribution to her team at the Cannington mine.
Kylee has become a role model for others in the industry working in trades or operational roles. She was also a finalist for Female Trade Student of the Year and has previously been nominated by peers for the Women In Mining and Resources Queensland (WIMARQ) Annual Resources Awards for Women.
"I'm proud of how far I've come and am excited for my future in the resources industry" Kylee said. "I want to continue to be a positive role model and support others to work hard and believe in themselves."
Since high school, Kylee has always wanted to be an electrician and work in the mining industry with big machines.

"I always want to be someone my younger relatives can look up to and show them they can do anything they want to in life," Kylee said.
"This award shows that no matter what your circumstances, you can accomplish anything if you have the right support, and you are willing to work hard."
Kylee is passionate about inclusion and diversity and advocates that a career in mining is for anyone and everyone.

"I like that the resources industry is changing and evolving all the time, with plenty to learn going into the future – I want to show that a career in mining can take you anywhere," she said.