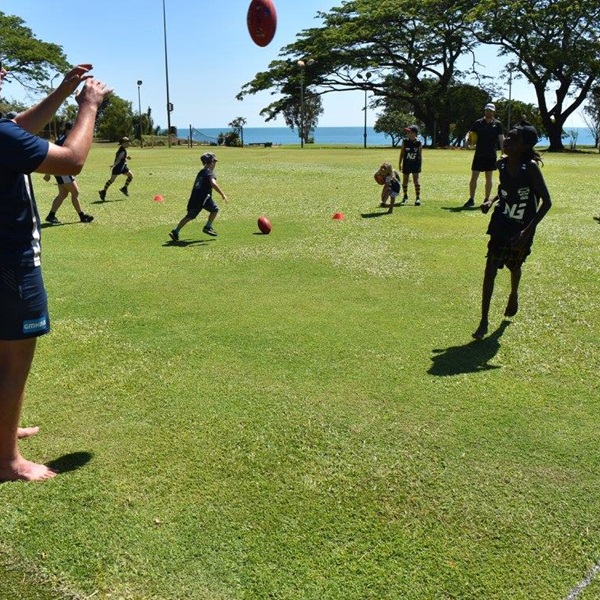 31 OCTOBER 2017
Kicking goals in the Groote Eylandt community
Australian Football League legend and 2016 Brownlow Medalist, Patrick Dangerfield, joined us on Groote Eylandt recently to lend a hand at the 2017 Community Football Day.
The AFL star and an action-packed day of activities, including a free BBQ lunch, the Geelong Cats NGA Clinic, and the Last Cast Exhibition match between the Groote Eylandt Cats and Djarrak Hawks, attracted people from across the island.
GEMCO Acting Vice President Operations, Ryan Kleinschmidt, said South32 was proud to support the event and to showcase the island home of our GEMCO manganese operation.
"The Community Football Day was a big success and it was great to see everyone out on the field together," Ryan said.
"Special thanks to the team from AFL NT and to the Geelong Cats for travelling all this way to help out."
The main attraction, Patrick, had been on the island filming for The Last Cast, a fishing-focused TV series, also sponsored by South32, that will air in early 2018 on Channel 7mate.
Patrick is a regular visitor to the region and said he looked forward to showcasing its world-class sports fishing.
"I have been coming to Groote Eylandt since 2012. It is such a unique location with some of the best fishing I have experienced," he said.
"The other thing that sets this place apart is the community. As you can see from today the football has united everyone and throughout this trip we have been so well supported by all of the community."
Patrick Dangerfield with Gino Lalara and Kenny Morton (image courtesy of AFL NT Media)
Patrick Dangerfield with Zac Roberts and Damon James (image courtesy of AFL NT Media)