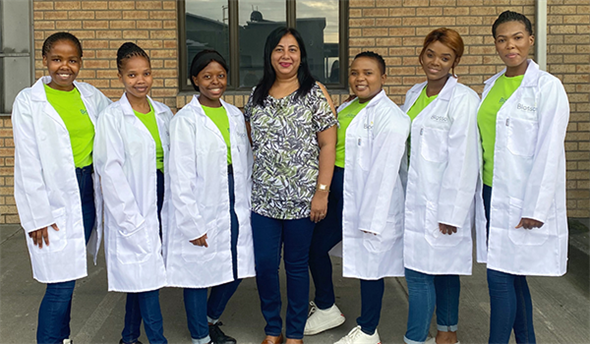 22 FEBRUARY 2022
Hillside teams up with Blossom Care Solutions to address period poverty in South Africa
Our Hillside Aluminium team has partnered with Blossom Care Solutions (Blossom) to help address period poverty, while creating sustainable job opportunities for young women in South Africa.
Period poverty is the lack of access to menstrual products which means women and girls cannot go to school or work or otherwise participate in daily life.
Blossom is taking an innovative approach to addressing this issue and youth employment in South Africa through establishing local economic value chains in the locations of its factories manufacturing sanitary pads.
With the support of South32, Blossom has established a small-scale factory our Enterprise and Supplier Development Centre, near our Hillside Aluminium operation. The facility is capable of producing between 60,000 to 80,000 sanitary pads per month. Six unemployed young women were recruited from surrounding communities to operate and eventually own the manufacturing facility.
These young entrepreneurs are provided with practical business training for 12 months. At the end of this incubation period, participants will take ownership of the business under a franchise model and retain all proceeds from sales. As part of their business plan, they are already marketing their products to local municipalities and industries in their local area.
Hillside will procure a portion of the manufactured sanitary pads and donate them to young women in local schools.
"We are pleased to support this youth development program as it not only empowers young women and equips them with skills, it also enables girls to stay in school," said Calvin Mkhabela, Vice President of Operations at Hillside Aluminium.