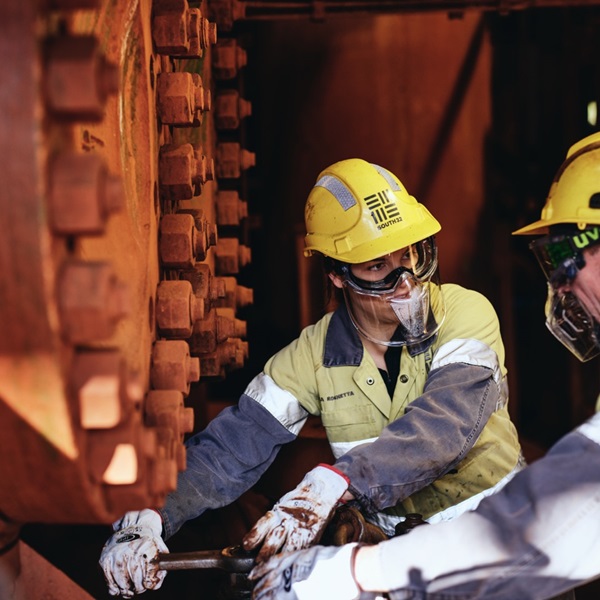 03 JANUARY 2023
Joe Pinzone strives to create a team environment where everyone is welcome, feels comfortable to learn and become the best tradesperson they can be. Joe is a Supervisor Maintenance at our South32 Worsley Alumina operation in the South West of West Australia.
This year Worsley Alumina announced the inaugural Worsley Inclusion Awards (WIN). These Awards recognised people in our business who are going above and beyond to create an inclusive work environment for all. Today we're pleased to share WIN Award Nominee Joe Pinzone's story.
As the Maintenance Supervisor in Area 2, Joe regularly hosts apprentices who are gaining experience by rotating through the different areas of the Refinery.
"It's important that the apprentices feel free to learn and don't have to worry about fitting in and everything that goes with learning on the job," Joe said.
"I've got an experienced team who are good at welcoming people, always accessible and willing to work through and explain any jobs and take the time to explain how everything works.
"Together we try to create a team environment where apprentices can come to work and be themselves, feel comfortable to learn as much as they can and be involved."
Joe believes in treating everyone equally regardless of their experience, age or gender.
"Everyone is included and treated the same and there should never be any difference – I want people to enjoy coming to work and be the best they can be."
When a new apprentice arrives, Joe gives them a run down on Area 2, offers his assistance if they need anything or have any issues and provides his number to contact at any time.
"One of my boilermakers is a mentor for apprentices across site to help with training and is someone to talk to, so together with the other six tradespersons, it's a whole team effort."
In addition, Joe has facilitated a transitional retirement for one of his tradesmen, Sam who works a day a week.
"He's been at Worsley for 27 years and didn't want to retire completely so I was more than happy for him to work part-time," Joe said.
"He has a wealth of knowledge and experience and he is able to work with apprentices and pass his skills onto the next generation.
"Sam comes in and it gives everyone a boost - he's excited to be back for a day and everyone enjoys having him here and of course his experience is invaluable."
Joe even paired Sam up with his granddaughter, apprentice Lara during her six months training in Area 2.
"It was quite amazing for Lara to be able to work with her grandfather. They are both fitters so Sam was able to teach her how to use the equipment and help with her training."