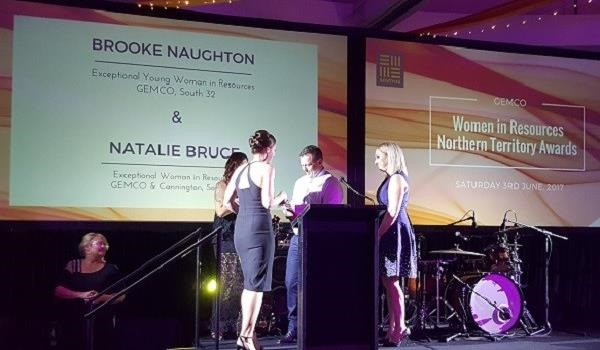 09 APRIL 2018
Our people recognised for commitment to gender diversity.
Champions for diversity recognised at awards
We aspire to be an inclusive organisation, and we're proud to have three employees from our GEMCO operation on Groote Eylandt recognised at the 2017 Women in Resources Northern Territory Awards for their contribution to gender diversity at South32.
Brooke Naughton, Natalie Bruce and Andrew Bigg were recognised for their work in breaking down barriers for women and building a workplace which reflects our broader communities.
The Exceptional Young Woman in Resources award went to Brooke Naughton from our Site Services team. Brooke manages a team of eight people across two remote mine sites and mentors several women. With a personal passion for helping disadvantaged young people, Brooke initiated, developed and ran an Indigenous Work Experience Programme for local youth on Groote Eylandt.
Brooke's manager, Natalie Bruce, received the Exceptional Woman in Resources Award. Natalie is responsible for site services for more than 1500 employees across our Northern Territory and Queensland mine sites including catering, cleaning, village maintenance, training, emergency services and aviation operations.
When she moved to Groote Eylandt, Natalie – a full-time working mum – quickly realised that the lack of after-school care and the impending closure of the day care service would make it hard for working mothers. Natalie's advocacy resulted in the creation of the Alyangula Outside Hours School Care. She also took on the role of President of the Groote Eylandt Day Care Centre Committee, transforming it into a viable service and lobbying GEMCO to provide AU$3.2 million for a new facility.
Brooke and Natalie tied for the overall Woman in Resources Award.
GEMCO Operations Manager, Mining, Andrew Bigg, was named Gender Diversity Champion. Andrew's approach to encouraging more women into the mining sector is to remove barriers that may be preventing women from working onsite, with a focus on practical actions such as providing suitable facilities. Andrew's efforts have contributed to an increase in women working in his direct leadership team, growing from zero to 25 per cent in just two years, and the number of female supervisors has increased to 23 per cent.
It was a very successful night for us with six finalists in the awards from 10 nominations, highlighting the strong talents of our people and their commitment to building a more inclusive workplace.
As the major sponsor of the awards, we presented a panel session focussed on diversity and inclusion, which featured Andrew and Natalie, along with Energy Resources of Australia chief executive Andrea Sutton.