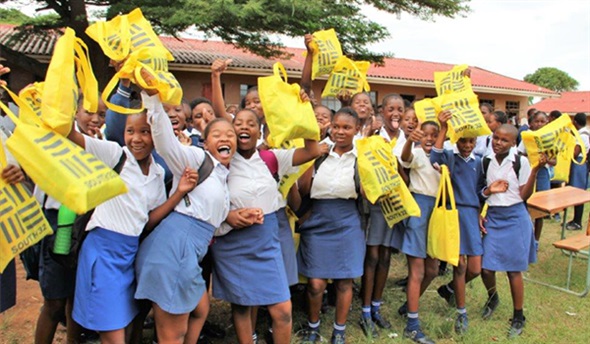 24 MAY 2019
Caring for South African Girls
Hillside Aluminium is making a difference to the lives of thousands of South African schoolgirls with its sponsorship of the Imbumba Foundation's Caring4Girls programme.

The sponsorship provides sanitary towels and health education to rural, informal settlement and township schools across South Africa. Research has shown that underprivileged girls can miss up to 50 days of school per year due to lack of access to adequate feminine hygiene.

Our Hillside teams were met with great excitement when they travelled to Mcabango, Matamzana, Isiphephelo, Lizwi and Mgitshwa High Schools near Empangeni and Richards Bay to hand over 1,500 packs of sanitary towels to the students.

Members of Hillside's 'Women at Work' forum, which aims to empower women in the workplace, helped distribute the sanitary packs at the five schools.

Speaking to the students, Ellie Moshoane, Hillside Aluminium Casthouse Manager, said it was important to stay at school and receive an education, so they can pursue a better life.

The Caring4Girls programme also focuses on awareness around women's health and the Imbumba Foundation's goal is to reach two million girls by 2020.