08 JANUARY 2023
Volunteering at work and in the community is a passion for Vinny Govender, Team Lead Service Management in Digital Technology at South32 Worsley Alumina.
This year Worsley Alumina announced the inaugural Worsley Inclusion Network Awards (WIN). These Awards recognised people in our business who are going above and beyond to create an inclusive work environment for all. Today we're pleased to share WIN Award Nominee Vinny's story.
Already a member of the Worsley Inclusion Network (WIN), Vinny raised her concern at a meeting about a colleague who had suffered a mobility issue.
"My colleagues in the Tech team started talking about his return to work, how he was going to move around the office and park his car and how we could make his transition back to work easier," Vinny said.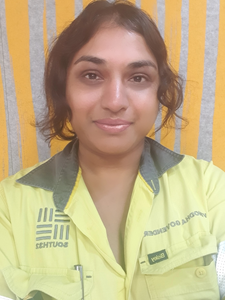 Above: Vinny Govender WIN Award Nominee
As a WIN committee member, Vinny volunteered to drive the initiative and organised a vendor to undertake an accessibility assessment of five administration areas at the Refinery and Port.
"I'm passionate about making the workplace better and more inclusive so people feel comfortable and feel like they belong here," Vinny said.
"We also needed to consider helping people who required support returning to work after recovering from surgery, or sports strains and injuries and handrails for support or general mobility assistance."
Vinny coordinated a two-day audit in November and presented the report to the Worsley Leadership Team in January.
"There are a range of quick fixes and short and long term capital projects that will be actioned, which is great because we are able to make people feel better about coming back to work and supported on the journey they are going through."
Vinny has also volunteered to speak at the Worsley Community Liaison Committee meeting about inclusion and diversity, volunteered at the Our Journey Days, the National Science and Engineering Challenge and on site fundraisers such as Movember, attended sponsorship presentations to Waratah Support Services and ran meditation classes for the Worsley Wellness program.
When she's not at work, she runs free meditation classes for the community every month.
"We are here to see each other through and leave a positive impact in every day experiences. The Worsley Inclusion Network (WIN) is a great platform to enable change for the better."