13 FEBRUARY 2023
International Day of Women and Girls in Science is marked on 11 February each year. We caught up with Aziza McKenzie, one of the amazing women at Hillside, to find out more about her typical day and her passions.
How do you describe your role at South32?
I am a Mechanical Engineer and my role is Maintenance Superintendent at the Casthouse Plant at Hillside Aluminium. I ensure that my three supervised teams are equipped to safely and effectively execute planned maintenance every day. I see my role as an enabler for our team to safely execute their work, so that the equipment is more reliable and available to maximise production and push the aluminium ingots out of our gate.
What does a typical day look like for you?
My whole day from the time I set my bag down at my desk, is filled with engagements with different people in different roles across the organisation - whether it be formal meetings or informal chats. It's about constant communication between me and the supervisors who are executing work and solving issues.
I also interact with my production counterparts to determine any specific requirements or interventions they may require. There are also meetings with the management team, maintenance or production supervisors and contractors. I have to keep my finger the pulse of many things throughout the day, it makes my job exciting. No day is the same and that's what I love the most about my job.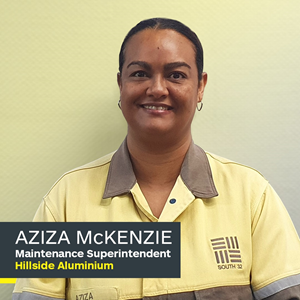 Can you share a bit about your passion projects or the non-typical days?
One of the many things my mother taught me was to get involved in charity and help those in need. I am also passionate about uplifting women at work and making sure we are being treated equally, and work in an environment that is safe.
For the last six years I have been part of the Hillside Women@Work (W@W) forum and I am now in the role of chairperson. I co-ordinate the W@W forum committee, which involves connecting with women on site and outreach in our local communities. I believe we can make a difference and inspire all the women who join our Hillside family. I would like to reach out to more young girls to study maths and science, and to help them make their dreams a reality.
What's the one thing you can't start your day without doing? Do you have a morning ritual?
I cannot start my day without praying; just thanking God for all his blessings. The one thing I've started doing is to try to master the art of making the most of or being present in the moment.
How do you unwind after a day in your role? 
I spend time with my kids – daily check-ins are good for all of us. They say that with time comes wisdom so I try to impart what I've learnt from my parents to my kids. Our bonding time is usually filled with lots of talking, laughing and happy moments that I absolutely treasure. The best part of my day is getting into bed with a good book before lights out.
We celebrate Aziza and all the women in our business with a background in Science, Technology, Engineering and Mathematics (STEM). You're all role models for future generations of STEM professionals and we couldn't be prouder!