14 NOVEMBER 2018
SAEC helps students see a brighter future
Our South Africa Energy Coal (SAEC) has helped thousands of local students to see a brighter future after carrying out an extensive eye testing campaign in the local community.

Last month SAEC helped to test around 3,180 young learners from six primary schools in Phola and Ogies as well as providing more than 170 pairs of glasses to those in need.

The initiative was run in in partnership with Vision4Change, a non-profit company which aims to make a lasting impact by serving and uplifting the community through welfare and humanitarian work.

As many households in the local area cannot afford prescription spectacles Vision4Change partners with other foundations to provide required medical support.

SAEC is now planning to extend the campaign to schools in the eMalahleni and Middelburg areas.

At South32, our purpose is to make a difference by developing natural resources, improving people's lives now and for generations to come.

We are trusted by our owners and partners to realise the potential of their resources.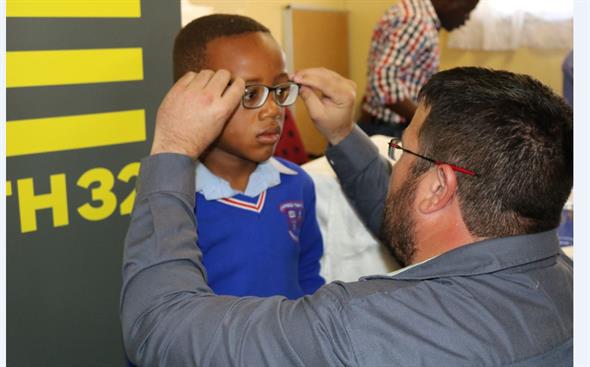 Josua Bekker, Operations Manager at Klipspruit, helping with the fitting process.